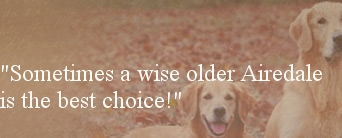 Adding an older Airedale to your life

       Almost everyone seems to want a puppy.  After all, who could resist those innocent eyes and that wagging tail?  But, some potential owners also remember those sharp puppy teeth and the series of vet visits that go along with a 8 week old puppy!    

      At Longvue, we sometimes have older Airedales from "teenagers" to seasoned adults available for placement.  The teenaged Airedales (5 months  to 2 years) typically were kept as show prospects.  The older adults are usually 4 to 6 year old Champion females who have 2-3 litters to their credit.  We are looking for calm, loving, forever homes for these dogs.  We insist that you have the time to dote on these Airedales.  

     Introducing an older dog to a household is different than introducing a young puppy.  Our preference for forever homes are those that have no cats and that have either no dogs or a dog of the opposite sex of the older adult that we are placing.

     An older Airedale from Longvue will come to you socialized with people, crate trained, lead broken, microchipped and up to date on immunizations.  You will need to provide training in all aspects of living in a house and you will need to provide understanding and lots of patience and love.   You will be rewarded with love in return for your efforts.

​We have a lovely 6 year old female available for placement.  She is available to an experienced Airedale owner who also preferably has a male Airedale for her companion.